Las plantas no solo ayudan a su aburrida vida cercana a la naturaleza, sino que también pueden transformar su espacio vital en un lugar más atractivo. Especialmente, en el ambiente tenso y serio de la oficina, las plantas se convertirán en una gran adición para mejorar su estado de ánimo. Y en esta publicación de hoy, hemos compilado una lista de las mejores plantas para su escritorio que le encantarán. No solo eso, limpiar el aire más fresco y traer suerte son beneficios que muchas personas quieren cultivar en los últimos años.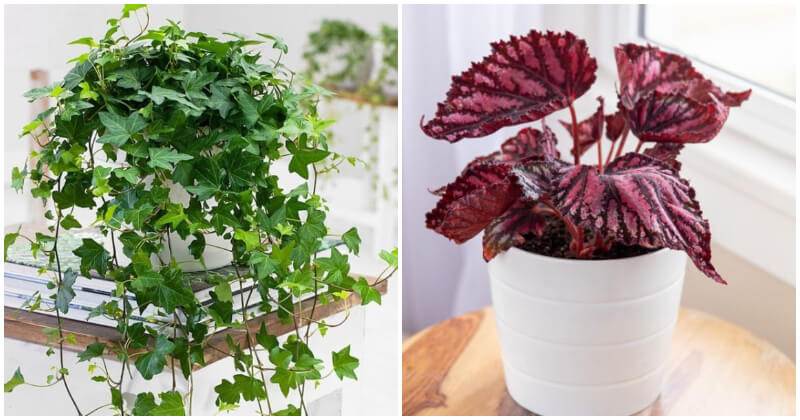 Si desea agregar algo a su oficina, estas plantas de escritorio son excelentes recomendaciones. Y hay muchas opciones disponibles para adaptarse a cualquier espacio, incluso si solo tiene una pequeña cantidad de espacio para trabajar. Además, son fáciles de cultivar y no requerirán un título en horticultura para poder cuidarlos adecuadamente. Aquí hay 16 opciones diferentes para plantas de escritorio que deben caber perfectamente en su escritorio.
# 1. Planta de serpiente
Fuente de la imagen: Thepioneerwoman
Snake Plant es una planta resistente que puede prosperar con cuidados básicos. Pueden hacerlo en mucho tiempo, durante aproximadamente un mes sin agua, con poca luz y aire seco, siempre que esté plantado en un suelo bien drenado.
# 2. Violeta africana
Fuente de la imagen: Southernliving
La violeta africana prospera en temperaturas y niveles de humedad promedio. Esto los convierte en una planta de escritorio ideal para la casa o la oficina.
# 3. Hiedra
Fuente de la imagen: Gardeningexpress
La hiedra crece felizmente en suelos húmedos y con poca luz, lo que la convierte en una opción extraña para una planta de escritorio.
# 4. Tillandsia
Fuente de la imagen: Pistilsnursery
Tillandsia es una opción distintiva que agregará interés a su espacio de trabajo, puede crecer sin tierra.
# 5. Judío errante
Fuente de la imagen: Amazon
El judío errante es una de las plantas más fáciles de cultivar. Es ideal para personas ocupadas que pueden olvidarse de cuidar las plantas delicadas.
# 6. Paz Lily
Fuente de la imagen: Mydomaine
Peace Lily no requiere grandes cantidades de luz ni riego diario para sobrevivir. Esto las convierte en plantas de escritorio ideales para personas ocupadas.
# 7. Filodendro
Fuente de la imagen: The Spruce
Philodendron es una planta de escritorio de bajo mantenimiento, solo recuerde regarlos regularmente para mantener su vegetación brillante.
# 8. Cactus
Fuente de la imagen: Redsquareflowers
Los cactus se encuentran normalmente en desiertos áridos y duros, por lo que son plantas de escritorio extremadamente duraderas.
# 9. Palmas
Fuente de la imagen: Jayscotts
Las palmas son plantas de bajo mantenimiento que crecen mejor en lugares más brillantes y necesitan un poco de agua filtrada cuando la superficie del suelo parece seca.
# 10. Planta de jade
Fuente de la imagen: Hgvt
A las plantas de jade les va bien en condiciones difíciles y no requieren tanta luz como otras plantas.
# 11. Helechos
Fuente de la imagen: Planterina
Los helechos prefieren ser regados con regularidad y sentarse en un suelo rico, pero aún así crecen bien en condiciones que no son excelentes.
# 12. Venus atrapamoscas
Fuente de la imagen: Gardenerideas
Venus Fly Trap es una pequeña planta que funcionará bien en suelos húmedos y con poca luz.
# 13. Orquídeas
Fuente de la imagen: Justaddiceorchids
Las orquídeas exóticas prefieren la luz indirecta a la luz solar directa y también requieren poca agua.
# 14. Begonia Rex
Fuente de la imagen: The Spruce
A Rex Begonia le va bien con poca luz y necesita buenos niveles de humedad para prosperar.
#15. Oxalis
Fuente de la imagen: Thecitywild
Oxalis se desempeña bien en condiciones de baja humedad y necesita luz brillante para obtener los colores más ricos.
#dieciséis. Árbol de hoja perenne chino
Fuente de la imagen: jardines ingleses
Los chinos de hoja perenne prefieren un ambiente cálido y feliz con luz indirecta, y también pueden eliminar las toxinas del aire.